Obituary for Richard Keramedjian
Richard (Dikran) Keramedjian was born May 24, 1927 to Hermine and Sahag (Sam) Keramedjian in Detroit, Michigan. His parents immigrated to the United States just before the atrocities in Turkish Armenia. He had an older brother, John Keramedjian.
Richard was devoted to his parents and especially to his father who was widowed early in his life.

Near the end of World War II, Richard served in the United States Army, and was stationed in Los Alamos, New Mexico, a member of the military police during the Manhattan Project. At 92, he was a young member of the Greatest Generation.

Richard grew up in Detroit with his brother, aunts, and cousins. He attended Cass Technical High School and Wayne State University, Engineering. He studied mechanical drawing, as it was called at the time.

In 1953, he married his beloved Jeanette Jivelegian, to whom he was married for 66 years until his passing. In December 1955 their first daughter Lisa was born, and in December 1959, they welcomed their second daughter Janice.

The family resided in Oak Park, Michigan for 22 years. They had many friends, parties, and of course, Christmas Eves were epic. Richard was the perfect complement to Jeanette, as they hosted years of celebrations at their homes — in Oak Park and later in West Bloomfield, Michigan.

Richard worked for Aronsson Printing (later Inland Press), a premier commercial printing company in Detroit, for over 40 years. He quickly worked his way up to Senior Vice President of Sales & Marketing.

He enjoyed his work and always said, "The harder I work, the luckier I get." And he was right. He surpassed his wildest expectations of himself. His great smile and positive outlook always kept him going. He always said that if he took every rejection too seriously, he wouldn't get out of bed: he always got out of bed. He had a wonderful work ethic and set a fine example for his daughters — never resting on his laurels.

He enjoyed his clients immensely, and made many friends through his work. He worked full-time until the age of 77. After that, he stayed on at Inland Press and Walker Printing, where dear friends kept a desk and phone for him to continue working part-time. He enjoyed going downtown on occasion to see those still at Inland and to have lunch with his former clients and coworkers.

His life with Jeanette was filled with entertainment, friends, and family. In the early years, they enjoyed business trips to Toronto and Chicago. They also took many trips to Northern Michigan and both coasts of Florida, where he enjoyed fishing with friends.

He was, for the most part, hilarious. He didn't realize how funny he was or how much fun he was to be with. People loved him.

In summer 1978, he and Jeanette built and moved in to their dream home in West Bloomfield, Michigan.

While he worked very hard, and was blessed with much good fortune, he miraculously survived cancer several times. He was extremely fortunate with the medical care he received, but it was his positive attitude that got him through — not to mention the courage and humor he always displayed. He never doubted that he'd survive, and the family never doubted that he'd make it. There was always that next golf game or opportunity to go fishing — the next thing to do — that kept him going.

In 1995, his son-in-law Brian joined the family when he married Lisa, and in 1997, his granddaughter Jennifer was born. He was over the moon with excitement — as he put it, "Another daughter to love." In 2000, his second son-in-law Matthew joined the family when he married Janice. His family was now complete.
.
In 2010, he and Jeanette took their dream trip to Rome: their lives were full and active until the end.

He lived as a healthy and happy man. In his later years, he deeply felt the loss of close, lifelong friends. Throughout his later adult life he continued to enjoy fishing and golfing. He was a devoted husband, father, father-in-law, grandfather, uncle, and friend. His family can proudly say he was a very honorable man.

Richard is predeceased by his brother John and sister-in-law Pat McGowan. He is survived by his wife, daughters, sons-in-law, and granddaughter, as well as his sister-in-law Arlene Feller, nieces, a nephew, friends, and extended family. He will be greatly missed.

VISITATION, AND FUNERAL
July 12, 2019 Friday The family will rfeceive friends from 10am until time of funeral servcies at 11am in St John Armenian Church, 22001 Northwestern Hwy, Southfield, MI.
Interment in Pine Lake Cemeetery, Wedst Bloomfield, MI

MEMORIAL DONATIONS
To further honor Richard Keramedjian's Memory, donations may be
sent to EITHER
1) the link for the lung cancer research under Dr. Gregory Kalemkerian:
victors.us/richardkeramedjian
or mail check to :
Michigan Medicine, Office of Development
1000 Oakbrook Drive
Ann Arbor, MI 48104
ATTN: Memorial Tributes for Richard Keramedjian

2)St. John Armenian Church

3) a charity of your choice.

FAMILY MEMBERS
Beloved husband of Jeanette Keramedjian;
Dearest father of Lisa (Brian) Meer, Janice (Matthew Larcinese) Keramedjian.
Cherished grandfather of Jennifer Meer.
Dear brother of the late John (Pat McGowan) Keramedjian;
Brother-in-law of Arlene Feller and many nieces, nephew and extended family.

CONDOLENCES
Kindly share a memory/condolence here (Click on "Share a Memory"
THANK YOU
To send flowers or a remembrance gift to the family of Richard Keramedjian, please visit our Tribute Store.
Previous Events
visitation and funeral serice
St John Armenian Church
22001 Northwestern Hwy; Southfield , MI 48075
Southfield, MI 48075
The family will receive friends in church from 10am until time of funeral service at 11am Interment in Pine Lake Cemetery, West Bloomfield, MI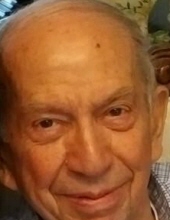 Thank you for sharing your
memory of Richard
Provide comfort by sending fresh
flowers from our local florist.
No thanks, please don't show me this again.