Obituary for Mary "Armenouhi" Sarafian
Mary (Armenouhi) Sarafian, lovingly known as "Amo" to all her friends, passed away November 28, 2017 in Warwick, RI, surrounded by her loving family. She was born in Detroit, MI on May 17, 1930 to Hovnan and Akabi Mooradian, survivors of the Armenian Genocide
Armenouhi grew up in Delray, later moving to "Zone 9", both predominantly Armenian sections of Detroit. She often spoke about how they had so little but that their lives contained an indescribable fullness. She would often share her colorful childhood memories of life in "Zone 9". She attended the Mourad-Zavarian Armenian school and served in the church choir. As an active member of the Detroit Mourad- Zavarian chapter of the Armenian Youth Federation, she enjoyed attending the annual Olympic games both as a youth and later as a parent and aunt with her own children and nephews. She and her sister Ani instilled a love of the organization in their children and all were active members.
Armenouhi attended and graduated from Southwestern High School, with honors, in Detroit. She found a calling in writing and was a member of Quill and Scroll club. She had a beautiful way of expressing her thoughts and inspiring others with her words which she did throughout her life. Her favorite sport in high school was basketball in which she excelled and for which she earned a Varsity letter.
She went on to find employment in the Defense Logistics Agency, a combat support agency in the United States Department of Defense. Through years of superior performance as she rose through the ranks, she attained the title of Industrial Property Management Specialist where she acted as the Government representative in all matters pertaining to the administration of third party contractors' management and control of Government property. She served the federal government for 35 years and earned the respect and admiration of her colleagues while also serving as their faithful friend. She was recognized for her patriotic support of the National Defense during Operation Desert Shield and Operation Desert Storm. She was a beautiful role model to her daughters – a wonderful example of a woman who managed a career while raising children and caring for family.
"Armenian Night" at the Stockade is where she met Meran Sarafian one of the "Khoopsetsi" twins from Highland Park, MI whom she later married in 1957. Her sister Ani married Meran's brother Don four years later. They and their children were inseparable. The bond that Dina, Drienne, Raffi and Alex have today is one that has been forged by the love of their parents. Armenouhi was fiercely protective of her family – a selfless human being whose abundant love was an anchor of stability as she endured the losses of her husband Meran, sister Ani and brother-in-law Don, too soon. She was a warrior and fought to maintain a home and hearth filled with love for her daughters and her beloved nephews. Her home on Wayne Road, was the hub of many gatherings of family and friends. Holidays, summer barbecues, Thursday boys' night - she welcomed it all with a heart that knew no limit in the love she extended to all those who entered.
Sports was a passion of Armenouhi's. She was an avid Detroit Tigers and Red Wings fan. The sound of the radio was a familiar one in her home as she often had one game or another humming in the background. She loved every opportunity she had to attend any games in person and cheered along with the crowds. It was a pleasure to watch her face light up with such enthusiasm and team spirit!
Armenouhi's family was her life. Her grandchildren were her lights. They brought her joy and pride beyond measure. "Meh Mom" was a constant source of love in their lives despite the many miles between them. Each of her trips to Rhode Island as well as theirs to Michigan, especially in the summer and at Christmas, were filled with magical moments – beautiful memories she created that they will cherish forever. She was also wholly devoted to her great nieces and nephews and was a constant presence in their lives. As with her grandchildren, they filled her with immense pride and happiness. She overflowed with love for them as they did for her.
In the year 2000, she visited Armenia and met her mother's family, many for the first time. It was an experience that she treasured and which gave her a sense of connection to her homeland and to the beautiful family from which she had been so long separated. The priceless memories that were made during that trip were engraved upon her heart and she often recalled them with such joy.
Armenouhi leaves behind a legacy of love, compassion and giving. Her spirit is an eternal light that will glow in the hearts of her family and friends, enabling them to continue forward, while serving as a constant reminder of what is most important in this Life.
FAMILY MEMBERS: She was the loving wife of the late Meran Sarafian; loving mother of Medina (Kenny) Topalian and Drienne Sarafian; grandmother of Alexan, Meran and Shahan Topalian; devoted sister of the late Margaret Garabedian (Ross) Vartian and the late Ani (Don) Sarafian; cherished aunt of Raffi (Christine) Sarafian, Alex (Kara) Sarafian, Ross (Judie) Vartian, Bruce (Ellen) Vartian, Zachary Zakem; dearest sister-in-law of Doris (Joe) Zakem; great aunt of Danielle, Melanie, Nicolas, Ani and Alina Sarafian, Aram and Raffi (Genevieve) Vartian; great-great aunt of Eleanore and Henry Vartian; niece and cousin of the Hairouni family in Yerevan and Vartenis, Armenia and the Oxian family in South Bend Indiana.
VISITATION AND FUNERAL SERVICES: In State Monday 5pm to 8pm with Dan Gark prayers at 7:30pm in St.Sarkis Armenian Apostolic Church, 19300 Ford Rd., Dearborn. The family will also receive friends in church on Tuesday from 10am until time of funeral services at 11:00am. Interment Woodlawn Cemetery.

MEMORIALS OR FLORAL DELIVERIES: Memorials suggested to St. Sarkis Armenian Apostolic Church OR Deliver flowers directly to the church on Monday.

KINDLY LEAVE A LOVING REMEMBRANCE HERE FOR THE FAMILY AND FRIENDS TO SEE. Thank You !

ARRANGEMENTS in the care of SIMON JAVIZIAN FUNERAL DIRECTORS 248-626-7815.
To send flowers or a remembrance gift to the family of Mary "Armenouhi" Sarafian, please visit our Tribute Store.
Memorial Contribution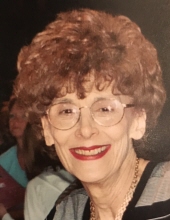 Thank you for sharing your
memory of Mary
Provide comfort by sending fresh
flowers from our local florist.
No thanks, please don't show me this again.