Obituary for ROBERT "Bob" AITKEN
ROBERT WILLIAM "Bob" AITKEN peacefully passed away in Detroit on October 1, 2018, with his children around him. He was a Wayne County Road Commission retiree and a 1951 graduate of Cass Tech Music Dept.

Bob Aitken's father, Roby, was a coal miner who came to Detroit to work in the Ford Plant until his retirement. Bob came from humble folk and in many ways embraced that humility in his faith, work, and family. We remember our father as a good man with a big smile, who liked funny stories. He loved to laugh.

But, he also was a man of talents. He was a classically trained clarinetist who played with good friend, Simon Javizian, and other talented classmates in the Music Department's orchestra and band at Cass Technical High School, and around Detroit. His love for music spanned his entire life. Our parents were season ticket holders to the Detroit Symphony Orchestra when Neeme Jarvi conducted. When Joe was a boy, dad played clarinet in the kitchen every Saturday.

Bob Aitken was also a devout Catholic, attending Gesu Church every morning for decades, and helping, for years, to count donation money at the Gesu. He met his wife, Mary, at the Newman Club, and attended Manresa retreats with others from the University District Neighborhood.

He was also a family man, who turned down a music scholarship to the University of Miami to be close to his parents, Roby, Helen and his brother, John. Friend, Simon Javizian, said dad came from a working class family who stuck together. Dad sacrificed for the family, including taking the bus to work and driving us on long trips to the Smoky Mountains, Florida, New Mexico, and New Orleans. His wife Mary's family, remembers the expeditions for Christmas trees, and times playing handball and badminton. Joe remembers going to Tiger games together with Uncle John, and attending Lions games together at Tiger Stadium. Dad's dedication to the Detroit Tigers and Lions far surpassed the teams' talents. There were many times he ended up rooting for last place to help the draft pick the following year. The decades of Lions losses also allowed him to practice deep faith, the kind required to muster up miracles.

Uncle Tim Trainor remembers the witty conversations they had about sports and politics. Uncle Tim (Republican) and Dad (Democrat) would spar over their differing political beliefs. "Neither one of us knew what we were talking about, but that was beside the point. The real fun was in the argument and what we considered to be witty insults that left the other momentarily foundering for a retort. These disagreements played out on the handball court where each of us achieved mediocrity and never dominated -- just like the political debates. The one area where we found total unanimity was the Detroit Tigers, and I'll always treasure the good times we had together at the games, each of us growing smarter and more insightful in proportion to the number of beers we consumed."

Dad's father died of a heart attack at age 80. Dad always said if he made it to 80, he'd be satisfied. Bob's passing at 85 meant five more years to spend time with his beloved wife, Mary. People often remarked how nice it was to see an older couple still in love, holding hands together until the end. When our mother became sick, Dad was able to help care for her and keep her home. Dad also saw his daughter Mary Ann's recognition as an artist blossom.

Our father had strong views about politics, sports, and his future. He told his family, "The only way I am leaving this house is in a box." No one dared question that statement, even in his frailer years.

Bob's son, Joe and daughter Maureen, were with him during his final moments. They held his hands. He left this world peacefully to join his father, mother, brother, daughter and wife. He outlived many of his friends and family. Most importantly, he lived with mobility, until the final weeks, in the home the family shared for over 50 years. Our father, to the end, lived the life he wanted and lived in faith. For his family and friends, this was a blessing, indeed.

FAMILY MEMBERS
Beloved husband of the late Mary (nee Trainor) Aitken. Dearest father of Joe (Lori) Aitken, Maureen (Jeff Gulick) Aitken and the late Mary Ann Aitken. Dear son of the late Roby and Helen Aitken; brother of the late John Aitken. Also many other relatives and friends.

VISITATION AND FUNERAL
In State October 8, 2018, Monday from 10:00am until time of Funeral Mass at 11:00am in Gesu Catholic Church, 17204 Oak Drive, (at Livernois and McNichols in Detroit). Interment Holy Sepulchre Cemetery.

MEMORIAL TRIBUTES
Memorials suggested for Masses at Gesu Church.

CONDOLENCES
Kindly leave a condolence/remembrance here. THANK YOU

FLORISTS
Florists deliver directly to the church on Monday at 10am.
To send flowers or a remembrance gift to the family of ROBERT "Bob" AITKEN, please visit our Tribute Store.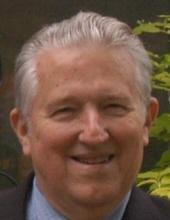 Thank you for sharing your
memory of ROBERT
Provide comfort by sending fresh
flowers from our local florist.
No thanks, please don't show me this again.